Basic data about the construction
The existing building of the former Club Hotel has a basement (partially recessed), 5 above-ground floors and a roof extension.
The building was originally used as a hotel with two restaurants and later as an office building.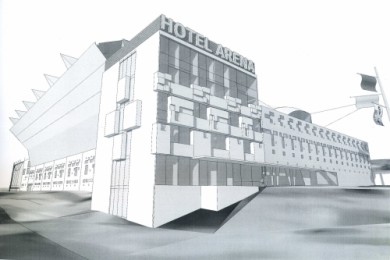 The main entrance to the building is retained from the north facade. It consists of a vestibule with an entrance to the hotel hall with a planned reception and reception facilities.
The hall will lead to a restaurant, to an existing toilet for visitors with an added toilet for the disabled and to a lift with adjustments for the disabled which is also connected through a door to the entrance hall of STEEL ARENA. The existing staircase will be retained.

Restaurant facilities will remain connected to the kitchen on the 1st underground floor and with the café on the 2nd underground floor.
1. Basement
It has a modified supply entrance and will be complemented by a new staircase. Through construction modifications, the kitchen will be re-designed for current needs with a warehouse and facilities for the staff. Heating of the hotel and domestic hot water will be done through a heat exchanger station.

2nd Floor
On the second floor there will be a café and facilities of the hotel administration.
 
3rd and 4th floor
Is designed as an accommodation section with 9 double rooms and a suite.
 
5th floor
In addition to an accommodation section with an apartment and 7 double rooms, a SKY LOUNGE space is planned, with its own bar and sanitary facilities. 
SKY LOUNGE area will serve as a comfortable club space where visitors can directly watch sports or cultural events while having high quality refreshments available. This space is designed as two-storey – it is connected with the 6th floor.
 
6th floor
Is proposed in the area of ​​the existing roof and the present superstructure. The layout is designed as a space for 2 double rooms and a suite. A separate part of the space is SKY LOUNGE with its own bar and sanitary facilities.
In HOTEL ARÉNA, gastronomic services and accommodation will be created, or more precisely, renewed, not only for guests, but for participants in sporting and cultural events organized in the STEEL ARÉNA as well.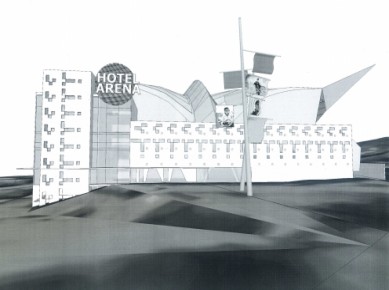 The STEEL ARÉNA and the Training hall hosts annually:  
- more than 100 hockey games (youth, junior and adult extraleague),
- around 20 cultural events,
- about 5 non-hockey sporting events.
The renovated Hotel Aréna will serve specifically for the needs of the above-mentioned events to ensure decent accommodation, catering and community services. At the same time, it will also serve
for the general public, offering its premises
for organizing other events (weddings, graduations, banquets, celebrations).