Information about the Training hall

The Training hall for hockey players is built on the south side of STEEL ARÉNA, with the dimensions of the rink being 26 x 56 meters and with a capacity of 300 up to 600 spectators. It includes ten dressing rooms. The hall also meets criteria for youth hockey championship competitions.
Technical parameters
Size of the training hall: 60 x 60 m
Rink size: 26 x 56 m
Hall height: 11.3 m
Capacity: 200-500 spectators
Central lighting: 212 pieces of fluorescent lamps
Total seats: 302 pieces
Length of cooling system: 500 m
Cabling works: 25 627 m
Heating: 56 pcs radiators
Monitoring: 16 pcs cameras + 6 pcs of Digital video door phone systems
Sound system: 12 pcs speaker
Electronic fire alarm: 133 pcs sensors
Timing LCD screen: 2 pcs with size 3 x 2.3 m
Electronic security system: 24 magnetic door contacts
Changing rooms: 10
Number of parking spaces under the training hall: 39
 
On-site training halls were built area

Kick-off of soil: 5 900 m3
Wiring: 15 000 m
Piles: 932.5 m
Concrete: 2 800 m3
Total steel structure: 127 034,0 kg
Reinforcement: 156.4 tons
Volume of the hall: 19 800 m3
Cooling pipe lines: 25 135 m
Price list 

Price list for renting the ice field of STEEL ARENA's Training hall, valid through year 2016,
time

price
(per hour without tax )

price
(per hour with tax)

600 - 2000

190 €

228 €

2000 - 2200

170 €

204 €

od 2200

120 €

144 €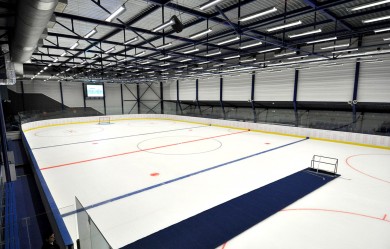 Visiting rules

All visitors entering the Training hall are obliged to acquaint themselves with the Visitors´ Order  and to observe its rules.
1. Entry is only allowed during opening hours with valid ticket or season ticket. Upon organizers´ request, a visitor is obliged to show valid ticket or season ticket.
2. Children younger than 12 years of age are allowed only when accompanied by a person older than  18 years of age.
3. Wheelchair users and those severely disabled have, taking into account the capacity of the Training hall, admission for free and they have a reserved sector on the east side behind the goalie. Maximum number of wheelchair seats is 15.
4. Persons under alcohol and substances influence are restricted to enter the Arena.
5. Entry to the premises of the Training hall can be denied to persons whose visit would or could disrupt its order and safety, or to those whose behaviour is in contrast to the social norms of behaviour.
6. Entry in the Training hall with pets is forbidden.
7.Visitors are strictly forbidden to bring any beverages (both alcoholic and non-alcoholic) in the object, as well as food; to use alcoholic beverages and other narcotic substances.
8. Visitors are prohibited from bringing weapons, ammunition, fireworks, umbrellas and other objects that can or might endanger the lives and health of persons or cause damage to the facilities and the equipment of the Training hall.
9. It is prohibited to bring to the premises of the Training hall objects that could disrupt the acoustics - loudspeakers, radios, tape recorders and other similar items and equipment.
10.Security searches are conducted upon entering the Training hall. In justified cases, it is possible to carry out a security search inside of the Training hall. Visitors are required to undergo these security searches to the extent necessary and are required to endure them. Refusal to cooperate can, in justified cases, lead to prohibition of the entry for the visitor or in banishment of the visitor from the premises of the Training hall.
11. It is strictly forbidden to bring any types of drinks and food to all sectors of the Training hall.

12. A visitor, who despite a warning violates the rules of these regulations or does not obey the instructions of those responsible for maintaining order in the Training hall, can be banished from the premises of the Training hall.
13. In exceptional cases, according to the nature of the violation, the general manager of STEEL ARENA or his representative can ask a member of the private security guard for help or ask the police authorities for help directly.
14. Visitors are obliged to behave in the premises of the Training hall in a manner that does not damage or otherwise impair the facilities of the Training hall.
15. Visitors must pay STEEL ARÉNA any damage caused by their actions or neglect in the Training hall.
16. Visitors are obliged to keep cleanliness and order within Training hall.
17. Strict smoking prohibition in all Training hall premises!!!
18. Throwing any objects into the Ice Rink or production area is restricted during sport, social, cultural and other events as well as out of any event time.
19. It is strictly forbidden to take pictures and to film in the premises of the Training hall. Photographing and filming is possible only with the prior consent
of the general manager of STEEL ARENA or the organizer.
20. Bikes, carriages, small motorcycle or other means of transport are prohibited outside of the Training hall as well as within its premises. Entry of persons on roller skates to the Training hall is prohibited.
21. Visitors are allowed to move in the Training hall only in spaces reserved for visitors. Entry to other premises of the Training hall to visitors is prohibited.
22. The injury to the public subject to the action (ball, puck etc.) Does not correspond to the training hall. The injured person is entitled to pursue their rights with the organizer of the event.
23. Visitor that finds any objects within Training hall premises is obliged to deliver them at the gatehouse or at person on duty who will secure these objects and handover to the owner.
24. Every visitor of the Training hall agrees without further notice to the free use of their likenesses as a part of any video recording, transmission or reproduction for commercial purposes, to the extent of the whole or just a part of the event in relation to the Training hall, organizers or sponsors of the event.
25. STEEL ARÉNA will not be responsible for damages, injuries caused by carelessness or failed observance of the Visitors´ Order as well as instructions of responsible employees. All damages caused by inappropriate conduct of visitors (failed observance of provisions included in the Visitors´ Order) will be claimed in compliance with valid SR regulations.
26. Provisions of the Visitors´ Order apply to entire Training hall object including parking lots and other objects belonging to Training hall.
27. Parking spaces belonging to the Training hall can be used only by vehicles with parking passes.
28. Maximum seating capacity in the Training hall is 300 seats. Exceeding this audience capacity is not possible.