Wheel-chairers and the disabled
Section located above sector B12 is excluded to the disabled visitors of STEEL ARÉNA.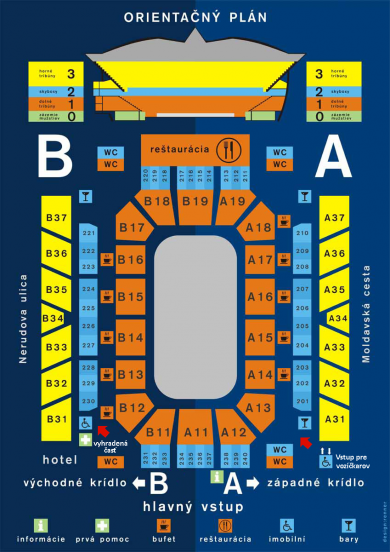 When entering the Arena

When entering Aréna, use specially marked entrance in section A (right – west wing).
You will get to the 1st floor by lift located directly at the entrance.
During match, you have access to refreshment in the bar located above sector A13.

Wheelchair users have a free entry to STEEL ARENA to sector B12, to which they can get to by a lift. The sector has a limited capacity
of 22 seats and the accompaniment is required to purchase a ticket at his discretion, we recommend in sector B12.
If the accompaniment buys tickets in another sector, he will be admitted to sector B12 and will be allowed to accompany the wheelchair user.

As accompaniment, only one person is permitted. In the event that this capacity is filled, they will be denied entry to the event.

This decision may vary according to the nature of the event and the decision of the event organizer.